Surgical Dental Cleaning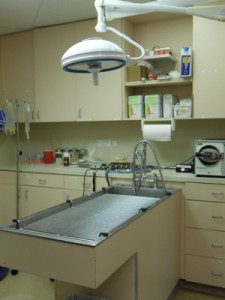 Atlantic Animal Clinic has been providing dental care and cleanings for over 30 years.  Our surgical dentals are performed with your pet under anesthesia. In order to insure your pet is a candidate for a surgical dental we do pre-surgical blood work and electrocardiogram.  Once your pet is cleared by our doctors we can schedule an appointment to proceed with the surgical dental.  Our dental cleanings are performed weekly Monday-Thursday.  The surgical dental cleaning includes oral assessment, anesthesia, ultrasonic scaling, polishing, and OraVet sealant.   
Ask our staff for preventive care and products to maintain your pets newly polished teeth.
Non-anesthetic Dentals
We are proud to announce we are now working with Pet Dental Services (PDS).  They have been around for more than 10 years providing anesthesia-free dental care. PDS has established a solid reputation among a growing network of over 300 veterinarians. 
They use a 7-step professional teeth cleaning treatment that is performed without anesthesia.  It gives you an alternative method for cleaning and maintaining your pets teeth. PDS technicians work in conjunction with our veterinarians to provide you with oral care for your pets and to educate you on the importance of dental care in the overall health of your pets. 
The PDS technician is capable of performing a complete teeth cleaning, including subgingival scaling as well as machine polishing.  If the PDS technician were to find any loose teeth or painful gums during the exam, he/she will automatically stop and consult with the attending veterinarian on how to proceed.  The most important key to provide a successful cleaning is extreme patience and a gentle way with animals. This allows the PDS technician to gain complete trust and confidence of your pet, allowing them to perform a thorough teeth cleaning.
Currently we are scheduling the non-anesthetic dental once a month. It is recommended you have your pet evaluated by our veterinarian prior to scheduling the procedure to see if he or she is a good candidate.