About Atlantic Animal Clinic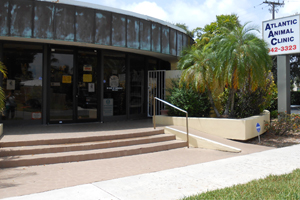 We have been providing South Florida with professional and quality pet care since 1968—developing a long-standing relationship with its wonderful residents within that time.  Located in sunny Pompano Beach, we serve many clients from Fort Lauderdale, Wilton Manors, Deerfield Beach, Boca Raton, and even some as far north as Jupiter.
As a small veterinary practice, we consider ourselves like family with our fantastic clients. Our friendly, trained, and qualified staff will provide your four legged friends with the best possible medical care. As a general practice clinic, we are capable of on-site x-rays, surgeries, dental procedures, and basic diagnostic testing such as urinalysis and blood work.
So if Princess is not acting quite right and Buddy has been holding that paw up a little too long, do not hesitate to give us a call and schedule an appointment. We look forward to welcoming you into our family!
Atlantic Animal Clinic
35 NE 25th Avenue
Pompano Beach, FL 33062
Phone: 954-942-3323
Fax: 954-942-3971
Email: info@atlantic-animal-clinic.com
Business Hours
Monday – Friday
Saturday
Sunday
8:00 a.m. – 6:00 p.m.
8:00 a.m. – 2:00 p.m.
10:00 a.m. – 4:00 p.m.
Emergency and After Hours Care
Pet Emergency Center
Phone: 954-772-0420
Website: www.petemergencycenters.com